Captivating Indie Exploration Game Sable is Coming in 2020
Video Source: Youtube
A beautifully illustrated and captivating game, Sable is a coming-of-age tale about a young woman trying to explore and discover the world in a stunningly rendered vast expanse of desert. Sable, a young woman, hailing from a nomadic pastoral tribe, is on a deeply personal journey, trying to figure out the head and tail of the world as we see it. It is a strange and alien planet, and far and beyond, you can only see sand. Ancient monuments, ruined architecture, and ships that had fallen from the cosmos are your only companions for the expanse of the game.
Strangely poetic and wonderful, the world Sable is in is the one where she can find answers to everything that she has been looking for for so long. Will you help her do the same? Developed by two self-taught developers who call themselves Shedworks, Sable is a project of immense labor and hard work. The game has heavy influences of Ghibli-infused living comic art style, non-linear open-world exploration, and a peaceful outlook. This is why the game features stunning and bold colors in the entire expanse of the relentless and harsh desert. The background score also features a soothing and stunning soundtrack, which sets the mood for the entire game.
Every structure in the vast expanse of the desert will tempt you to change paths every passing minute. It is up to you to stay on your chosen path or go on a new journey of discovery again. The game also features people whom you meet on the way. They do not become your companions, but you do get to know about new things from them. However, there are no action combat sequences with any of these new strangers. Sable is heavily built upon the theme of exploration rather than combat action sequences. The game is set to release worldwide in 2020.
An Indie exploration adventure that will take you to a whole other world
The game will literally take you to a whole different world. With strange and vast expanses of sand all around you, you will feel like you have been transported to a different dimension. However, you are not left to fend for yourself in this world and planet; you are given a hoverbike. Sable uses this hoverbike to get around in this expansive desert land. The hoverbike is incredibly customizable and can be adjusted in its statistics and functioning as you like. Getting around the desert has been made a whole lot easier and cool.
When you play Sable, you always have this inkling feeling at the back of your mind that the theme of the game is very different from what we usually see. One of the two game developers, Gregorios Kythreotis, said about the game, 'I think that's one of our big strengths that we don't come from games, we have an education outside of games, so our references aren't necessarily video game-related. The big architectural reference I'm looking at at the moment is Carlo Scarpa. And Alvaro Siza, John Soane, Archigram, Japanese Metabolism.'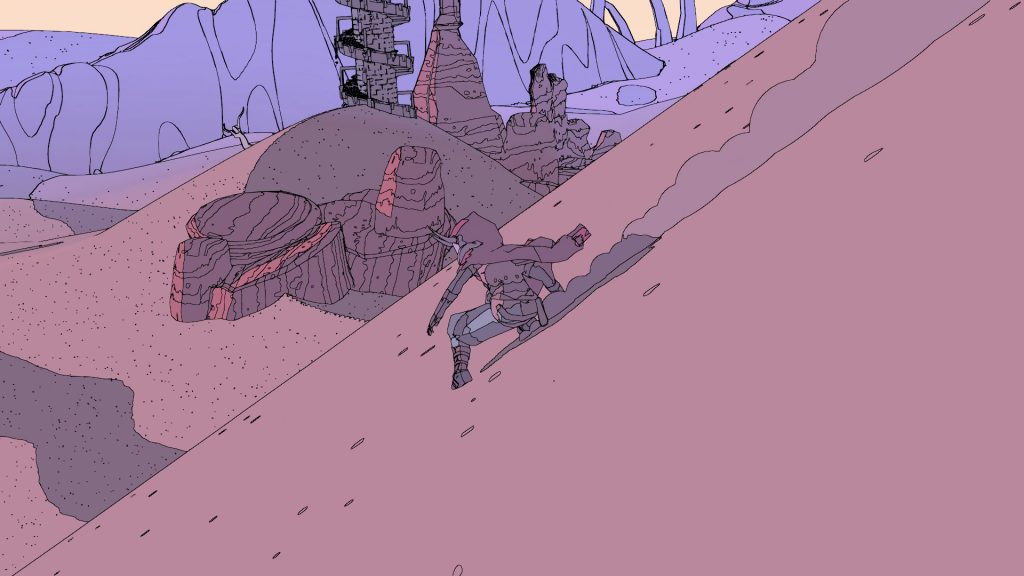 An exploration of not just the world around you but the person that you are within
Sable is not just a game where you explore the vast expanse of the world about you. That would make it a pretty normal game like the horde of them already available online. However, Sable is not just different in the way it looks and the kind of exploration journeys it has but also because it features an exploration of the self. Sable is on a journey of trying not just to find out answers about a long-lost ruined civilization but also the remnants of her past and what kind of a young woman she's growing into. A delicately told story, both the developers of the game have worked hard to weave the story into something beautiful and heartfelt.
If you are ready to find out answers about Sable's self and also about the world that she is exploring, then hold on and wait until finishing touches to the game are given. Sable is still under development, but a major portion of the work has been done already. The beautifully crafted Indie game with heavy influences from classic architectures and personas is set to release in a few months in 2020. It'll be interesting to note how gamers worldwide take the game given that Sable has already been quite a hit owing to its trailer. So, keep your eyes peeled for its release and go on an exploration adventure of your lifetime.